The Official TCM Formula That's Successfully Treating COVID-19 Patients In China
By ActiveHerb
While the entire country of Italy is in lockdown and confirmed cases of COVID-19, the novel coronavirus, are increasing in the United States, having recently exceeded 1,600 diagnoses, in China, seemingly, the crisis has stabilized…at least for the moment.
In addition to containing the spread of the disease in China through mandatory quarantines and the expedited building of treatment facilities, traditional Chinese medicine (TCM) has proven to be very effective in treating coronavirus patients.
Usually, TCM doctors treat patients holistically rather than dispense a one-remedy-fits-all solution. However, with COVID-19, these are unusual times.
TCM diagnostics such as tongue and pulse analyses are still par for the course in many hospitals across China. Yet with thousands of patients stricken by the disease, an official, state-level TCM formula was deemed necessary for mass treatment procedures.
And the name of the official formula to treat coronavirus is…
Qing Fei Pai Du Tang For Pneumonia & Other Coronavirus Complications
After it became clear that the winning strategy for treating coronavirus patients was by combining Western and traditional medicine, China's General Office of the National Health and Health Commission, announced a recommended formula for all provinces in the treatment of COVID-19 patients. The General Office's recommendation, made jointly with the Office of the State Administration of Traditional Chinese Medicine, is a formula called "Qing Fei Pai Du Tang."
Containing 21 herbal ingredients, Qing Fei Pai Du Tang has been used to treat thousands of patients, ranging from the mild to severe. For critically-ill patients, the formula is modified, and modern treatment interventions are necessary.
Qing Fei Pai Du Tang is a combination of four classic remedies, described in the 2000-year-old manuscript, Shang Han Lun by Zhang Zhongjing: Ma Xing Shi Gan Tang, She Gan Ma Huang Tang, Xiao Chai Hu Tang, and Wu Ling San.
Qing Fei Pai Du Tang Formula Composition
The following are the 21 herbs in the complete Chinese state-approved COVID-19 official formula, including the quantity of herbs in the decoction: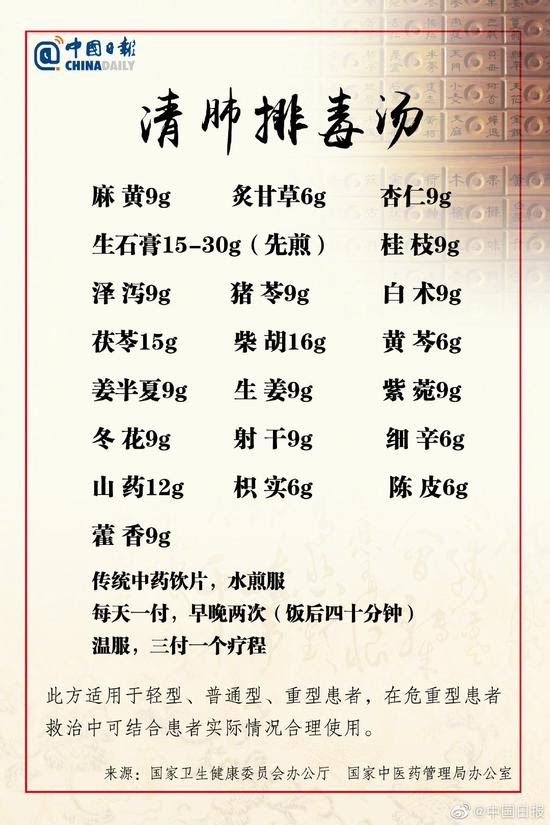 • Ma Huang (Ephedra stem) 9g
• Zhi Gan Cao (Prepared Chinese licorice root) 6g
• Ku Xing Ren (Apricot seed) 9g
• Shi Gao (Gypsum) 15-30g
• Gui Zhi (Cassia twig) 9g
• Ze Xie (Asian water plantain rhizome) 9g
• Zhu Ling (Zhu ling sclerotium) 9g
• Bai Zhu (bai-zhu atractylodes rhizome) 9g
• Fu Ling (Poria sclerotium) 15g
• Chai Hu (Bupleurum root) 16g
• Huang Qin (Barbed skullcap root) 6g
• Jiang Ban Xia (Pinellia rhizome cured with ginger) 9g
• Zi Wan (Tartarian aster root) 9g
• Sheng Jiang (Fresh ginger rhizome) 9g
• Kuan Dong Hua (Coltsfoot flower bud) 9g
• She Gan (Belamcanda rhizome) 9g
• Xi Xin (Chinese wild ginger root & rhizome) 6g
• Shan Yao (Chinese yam rhizome) 12g
• Zhi Shi (Bitter orange immature fruit) 6g
• Chen Pi (Tangerine dried rind) 6g
• Huo Xiang (Chinese giant hyssop aerial part) 9g
In the USA, finding the official Chinese formula for Qing Fei Pai Du Tang is next to impossible, as two of the ingredients above are banned by the U.S. Food & Drug Administration (FDA). The two banned substances are Ephedra (Ma Huang) and Asari (Xi Xin).
Although the official Qing Fei Pai Du Tang formula is not available for legal commercial purchase in the US, other formulas may help support the respiratory system and ameliorate symptoms.
All 19 FDA-approved herbs in Qing Fei Pai Du Tang are available in single herb granule extracts.
How Does Qing Fei Pai Du Tang Work?
Zhang Boli, a member of the Chinese central government's expert committee for coronavirus treatment, member of the Chinese Academy, and director of personnel at Jiangxia TCM hospital in Wuhan, perhaps said it best, quoting a tenet of TCM philosophy:
"When the right force (Qi) is preserved, the evils have no place to stay."
The evil that Dr. Zhang is referring to is an external pathogenic attack such as coronavirus. Qing Fei Pai Du Tang, on a top-level theory, expels the evil, viral insult.
In addition to Qing Fei Pai Du Tang, Dr. Zhang also recommends the formula Sheng Mai Yin to support Qi. (From a Western perspective, Sheng Mai Yin increases blood-oxygen saturation levels, thus improving respiration.)
According to TCM theory, coronavirus is an epidemic damp disease (湿疫), ranging from damp cold to damp heat, depending on the stage of disease progress and individual conditions. Qing Fei Pai Du Tang works by releasing the exterior, clearing heat and phlegm, and promoting water metabolism; the formula is acrid and cooling in nature.
Is There Proof That Qing Fei Pai Du Tang Works?
As mentioned in our previous blog post, the formula has been dispensed to coronavirus patients throughout China with successful results.
In one study announced by China's State Administration of Traditional Chinese Medicine, 701 confirmed coronavirus cases treated by Qing Fei Pai Du were analyzed. The 701 cases spanned 57 medical institutions in 10 provinces. Out of the 701 patients, 130 were cured and discharged; symptoms of 51 patients completely disappeared; 268 patients showed improvement in symptoms, and 212 presented with stable symptoms (those symptoms did not worsen).
Containing 21 herbal ingredients, Qing Fei Pai Du Tang has been used to treat thousands of patients, ranging from the mild to severe.
Before taking Qing Fei Pai Du Tang, 112 cases presented with a body temperature exceeding 37.3°C (99.14 F). After the herbal decoction was taken for just one day, 51.8% of the patients returned to normal temperature. After taking the remedy for six days, 94.6% of patients' temperatures returned to normal.
And out of the 701 cases, 214 patients presented with cough symptoms. After one day of taking Qing Fei Pai Du Tang, 46.7% of the patients' cough symptoms disappeared. After six days, that figure increased to 80.6% of patients.
TCM doctors also observed taking Qing Fei Pai Du Tang lessened the severity of other symptoms such as fatigue, poor appetite, and sore throat.
Of the 701 patients, detailed, completed case information of 351 patients has become available. And out of the 351 patients, none of the patients categorized as "light and ordinary" (i.e., mild) were downgraded to severe or critically ill; 3 of the 22 severe patients were cured and discharged; 8 were improved to general condition, and a total of 46 patients were cured and discharged.
How Is Qing Fei Pai Du Tang Made?
Unfortunately, the remedy is not available in tablet format. Rather, the herbs are cooked as an herbal decoction. It is administered once in the morning and once in the evening, 40 minutes after food.
The unique ratio of each herb can be altered by a TCM expert, depending on an individual's condition. For example, with high fever, the dosage of Shi Gao (Gypsum) is increased.
TCM experts recommend drinking a bowl of rice porridge (congee) after consuming the decoction. If a patient presents with thirst and dryness of the throat, two bowls of congee should be served.
Each treatment period lasts three days. If symptoms disappear, TCM experts advise to stop using the remedy, as it is not intended for maintenance.
Conclusion
According to research published in Chinese Journal of Natural Medicines, the cure rate of novel coronavirus pneumonia (NCP) was a paltry 2% in the early days of the virus. More recently, in certain provincial areas, the cure rate for NCP, which, is, of course, one of the most critical symptoms, has reached 40%.
So while the world waits with bated breath for a COVID-19 vaccine or cure, the TCM remedy, Qing Fei Pai Du Tang has successfully managed symptoms of thousands of patients in China.
References:
Traditional Chinese Medicine: an effective treatment for 2019 novel coronavirus pneumonia (NCP)
中国中医药管理局:清肺排毒汤对新冠肺炎具有良好疗效 (in Chinese)
张伯礼院士纵论中医药抗"疫":中西医并重 打造中国特色医疗急救体系 (in Chinese)
Suggested Reading From The ActiveHerb Blog:
Is TCM helping to treat coronavirus in China?
Prime Your Immune System for Seasonal Viral Attacks
6 Evils of TCM: Ancient theory for assessing imbalance
___
https://www.activeherb.com/blog/the-official-tcm-formula-thats-successfully-treating-covid-19-patients-in-china.html